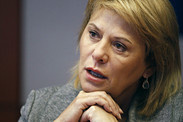 Less than a week after being fired, former Yahoo! CEO Carol Bartz has also resigned from her seat on the Board of Directors.
Says Yahoo! in a Sunday announcement:
On September 9, 2011, Carol Bartz resigned from the board of directors of Yahoo! Inc., effective immediately.
After being fired, Bartz went on to call the Board a bunch of "doofuses" who "fu**ed her over" when firing her over the phone with a lawyer-prepared script.
Regardless, Bartz gets a $14 million severance package and remains on the Board of other companies.