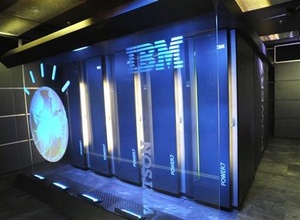 IBM's supercomputer will now help save lives.
After beating up on lowly humans on 'Jeopardy,' IBM's supercomputer Watson will now help Wellpoint Inc., the health insurer with 34 million members, to diagnose medical problems and authorize the correct treatments.
By integrating Watson's database into its own existing patient information, Wellpoint says they should be able to find the best treatment and remedies in the quickest time.
Says IBM:
"This very much fits into the sweet spot of what we envisioned for the applications of Watson."
Wellpoint agrees:
"It's really a game-changer in health care."
More specifically, the databases being integrated are Wellpoint's patient charts/electronic record, the insurance company's history of medicines and treatments, and Watson's vast database of textbooks and medical journals.
IBM says
it will only take seconds
for Watson to sift through all the data and provide several diagnoses or treatments.