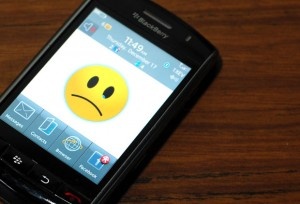 RIM reports terrible earnings.
The makers of the BlackBerry line of smartphones are seeing their stock down 18 percent today, following another quarter of weak sales.
Income fell to $414 million USD from $904 million last quarter and revenue fell to $4.2 billion, at the very bottom of where the company guided down to just 3 months ago.
Shipments of new BlackBerrys were down to 10.6 million, well below the 12 million expected, thanks to "lower than expected demand for older models,"
said
RIM co-chief executive Jim Balsillie.
Sales of the PlayBook tablet were down to 200,000 for the quarter from a strong 500,000 in the first quarter of availability, mainly thanks to missing features promised at launch, like a native email client.
RIM just released the latest BlackBerry 7 phones, the last of the line before the company moves to the better QNX platform seen on the PlayBook.