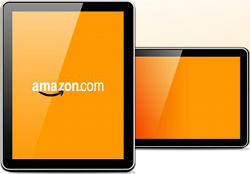 It appears
Amazon
's
rumored tablet
could be unveiled at a press conference scheduled for next Wednesday.
The tablet, which is expected to run Android, could end up being the first serious competitor for
Apple
's iPad. Since its release last year, no tablet has even come close to the iPad's sales.
Although
Apple
has shown a willingness to use patent lawsuits to get the most promising competition
taken off the market
, right now it's not clear they have anything to worry about. If
Amazon
enters the tablet market, that could change quickly.
Invitations to
Amazon
's Wednesday press event were
reportedly vague
. Perhaps they're taking a play from the
Apple
playbook, figuring speculation among the media and blogosphere will generate more buzz than actual details.
Arguably,
Apple
has more to fear from
Amazon
than any other potential tablet maker.
Amazon
already has cloud services, streaming video, and a successful e-book store to attract customers.
Not to mention a huge customer base to tap from their Kindle reader.
With all that going for them,
Amazon
doesn't need to make money on the hardware to turn a profit. In the past they've shown a willingness to accept a loss in one area to turn a profit in another.