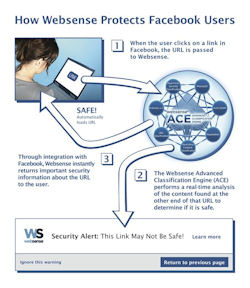 Websense ThreatSeeker Cloud deploying on world's largest social network.
Due to the size of Facebook's userbase, it is a primary target for attack. Facebook users are often enticed to click links that take them to malicious websites that can range from phishing scams, to pages that target web browser vulnerabilities to deliver malware.

The social network giant has decided to make moves to help protect users from this threat. When a user clicks a URL in Facebook, the link will be checked by the Websense ThreatSeeker Cloud platform in real-time.

If the system detects anything suspicious about the page, it will prompt a warning to user. This warning message will give the user three options; return to the previous screen, get more information on why this URL was identified as potentially harmful, or to proceed at their own risk.