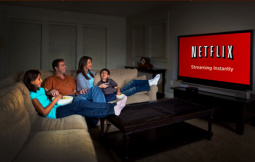 Last month, Netflix outraged subscribers by announcing that they would be splitting the DVD-by-mail and
streaming
services of their company.
The new company for DVDs, called Qwikster, would have its own login portal and would require subscribers to log in to both Netflix and Qwikster if they want to change their respective queues.
This move came on top of the already unpopular decision by Netflix to raise prices on those that wanted both services, from $9 to $16.
Today, Netflix has shut down the idea for Qwikster, based on user feedback.
Says CEO Reed Hastings (via
Bloomberg
):
Consumers value the simplicity Netflix has always offered and we respect that. There is a difference between moving quickly -- which Netflix has done very well for years -- and moving too fast, which is what we did in this case.
Users can switch their
DVD
and streaming queue from Netflix.com as usual, with their usual login.