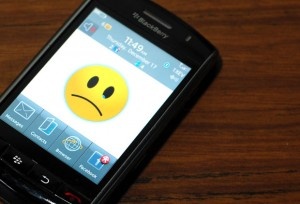 After being hit with outages in Europe, Asia and Africa over the past few days, the BlackBerry outages have now hit home, with Canadian and U.S. users losing access to their email and messaging, as well.
RIM confirmed the outages:
BlackBerry subscribers in the Americas may be experiencing intermittent service delays this [Wednesday] morning. We are working to resolve the situation as quickly as possible and we apologize to our customers for any inconvenience. We will provide a further update as soon as more information is available.
Verizon, Bell Canada and AT&T all noted the outage as well,
and said
it was up to BlackBerry to fix the problem.
For now, users can expect to experience missed emails followed by flurries of emails as outages switch on and off.