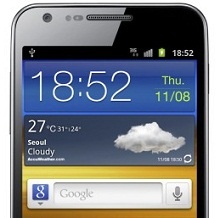 According to the Yonhap news agency,
Samsung
will replace a feature of their Galaxy smartphones in order to get around a sales ban in the Netherlands.
The feature, which relates to a patent for browsing pictures, will be replaced.
Apple
and Samsung have been battling over the past year over smartphone patents, with both companies looking to get sales of the rival's devices banned.
The Dutch injunction on the Galaxy mobile smartphones
will start
on Thursday so Samsung needs to be quick with their software update.