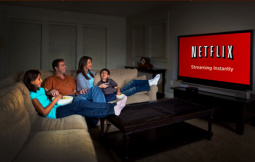 In September, Netflix outraged subscribers by announcing that they would be splitting the DVD-by-mail and
streaming
services of their company. The new company for DVDs, called Qwikster, would have its own login portal and would require subscribers to log in to both Netflix and Qwikster if they want to change their respective queues.
The move came on top of the already unpopular decision by Netflix to raise prices on those that wanted both services, from $9 to $16. Fortunately, the company decided to kill of the idea of Qwikster, but it was already too late and the damage had been done.

During today's quarterly earnings report, Netflix says they lost 800,000 subscribers, finishing the quarter at 23.8 million. The company had expected to stay above 24 million.

While the company expected a drop in mail customers, streaming customers took a hit also, down to 21.45 million from 21.8 million.

CEO Reed Hastings admitted the price rise "hurt our hard‐earned reputation, and stalled our domestic growth." More shockingly, the company says all its expansions will force earnings into the red in the Q1 2012.



Netflix's stock, which reached an all-time high in July at $305 per share, is now trading at $85 per share following the report.