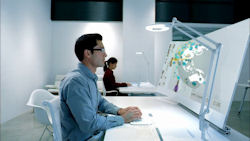 Speech and touch rule the roost.
So it seems Microsoft's "officevideos" channel has gone on some kind-of futurist craze over the past few days, ending with a video titled "Productivity Future Vision". The video shows Microsoft's view is on the future of productivity - how we manage our day to day activities and responsibilities at home, at work, and so forth.

"We create these videos to help tell the story we see unfolding in technology, and how it will impact our lives in the future," wrote Kurt DelBene, President of the Microsoft Office Division.

"The video shows our vision for a future where technology extends and highlights our productive capabilities; it helps us manage our time better, focus our attention on the most important things, and foster meaningful connections with the people we care about."

DelBene points out that all of the ideas in the video are based on real technology; some of the speech recognition, real time collaboration and data visualization already exists and is in use, while other features not commercially available are based on active research and development at Microsoft's, and other's labs.