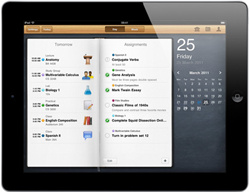 Despite being such new technology, the iPad is already gaining a foothold in US schools according to research from
Piper Jaffray
.
Researchers spoke with technology officials at 25 schools, all of whom indicated iPads were being used in their schools. Android, on the other hand, wasn't represented in this sample at all.
According to AppleInsider, analyst Gene Munster
detailed the results
at a conference on the integration of technology in the classroom:
While this may be expected due to limited availability of Android tablets early in the tablet cycle, we also see it as evidence of Apple's first mover advantage. We also see a trend in education (which is mirrored in the enterprise) that familiarity with Apple devices among students (or employees) is causing a demand pull within institutions to also provide Apple devices.
Education is arguably one of the most important markets for tablet makers to target. The needs of both students and teachers are unusually well aligned with the capabilities of tablets.
At the same time, it gives tablet makers a unique chance to capture the attention of potential future customers. A smart tablet vendor would factor that into their long term plans.