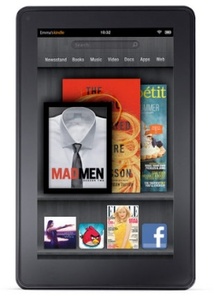 According to multiple sources in the supply chain, Amazon is prepping an 8.9-inch version of the Kindle Fire for future release.
Amazon's upcoming tablet/e-reader has a 7-inch screen and will retail for $199.
Many had expected the company to launch a 10.1-inch screen device that would directly compete with the iPad and other larger tablets, but if the
report
is accurate, that is not so.
Panel suppliers Chunghwa Picture Tubes and
LG
Display have already begun to prepare production capacities for the displays.
The Kindle Fire, set for a November 15th release, is so popular that it allegedly seeing 50,000 pre-orders per day.
Analysts expect up to 5 million
to be sold in this quarter, alone.