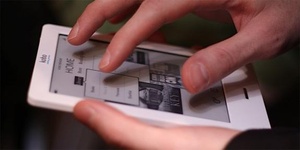 Kobo has followed in the footsteps of Amazon, launching a Touch e-reader that is subsidized with ads.
Priced at $99, the device automatically displays "sponsored screens and valuable offers" when the e-reader is not in use, replacing standard screen savers.
Additionally, the ads can show up "in other discreet places that are always outside of the reading experience, like on the bottom of your home screen."
The release date has not been revealed, but the product page says the e-reader is shipping in "2-3 weeks."
Featuring an e-ink display,
the device has
a 6-inch screen, weighs about 0.45 lbs, has 1GB internal memory, an
SD
card slot and access to the Kobo store, which has 2.2 million books.