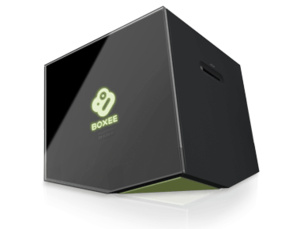 As
Google TV
continues to get the lion's share of press coverage for online TV alternatives,
Boxee
remains arguably the most successful offering for
cord cutters
.
Now they are adding a crucial component to their service by integrating
over the air
TV and unencrypted cable TV (
ClearQAM
) capabilities to
the Boxee Box
. In January they will begin shipping a USB TV tuner accessory for their
set-top box
.
The tuner can be pre-ordered now from
the Boxee website
.
The primary focus of
Boxee
is on delivering free online content through their software and hardware clients. In addition to the
Boxee Box
, there are also Windows, OS X, and even
Apple TV
clients.
However, the tuner will only work with the
Boxee Box
.
This seems like an obvious move considering support for TV broadcasts has been a frequently requested feature from early on. If there's one major feature still missing, it would be
DVR
functionality.
It wouldn't hurt to add those features to their Windows and OS X software as well.