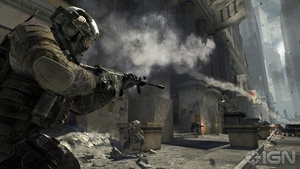 Call of Duty: Modern Warfare 3
has broken yet another sales record.
The game grossed just over $775 million during its first five days of availability,
says
publisher Activision.
Adds CEO Bobby Kotick:
Life-to-date retail sales for the Call of Duty franchise have exceeded $6 billion worldwide, which makes Call of Duty one of the most valuable entertainment properties in the world.
Call of Duty has seen its share of records, especially in the last few years. In 2009, COD: Modern Warfare 2 grossed $550 million in its first 5 days while last year, COD: Black Ops cashed $650 million in the same time frame.
From a multiplayer standpoint,
Microsoft
says 3.3 million subscribers played the game on launch day via Xbox Live, a record.