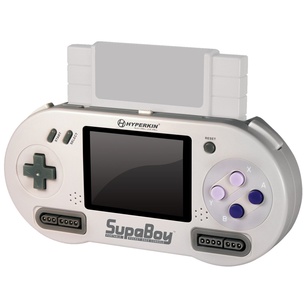 Hyperkin, the console accessory maker has made their much-anticipated SupaBoy handheld Super
NES
available for purchase on Amazon.
As the company describes it:
"The SupaBoy will play original SNES cartridges on a built-in 3.5" LCD screen and is designed to look like an original SNES controller including a D-pad, face buttons, as well as right and left shoulder buttons. The SupaBoy also includes two front loading ports that are compatible with full-size SNES controllers and video/audio out, allowing up to two players to play the SupaBoy on a regular TV screen."
The feature list:
Two seven-pin ports in front for wired controllers
SNES controller design
Screen size (diagonal): 3.5 inches
2.5 Hours battery life
Measures: 8.5 x 4 x 1.5 inches
Weight: 11.5 ounces
Stereo sound
AV Out
Headphone jack
Adjustable volume control
The device is selling for $80 on Amazon,
right now
.