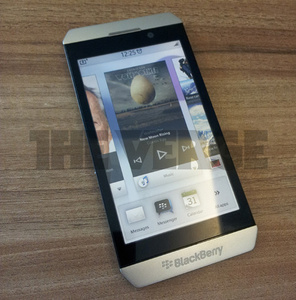 Crackberry
has a preview of the upcoming BlackBerry 2012 BBX roadmap.
The "London" (pictured) will be the first BlackBerry devices to use the BBX operating system, RIM's first move away from their BlackBerry OS and the first integration of the very sleep QNX OS.
Sources say the London should be released in March, although RIM is notorious for being late with their devices.
Headed further into 2012, the codenames looks like "Lisbon," "Milan," "Nevada," and "Black Forest."
The Milan has a preliminary March launch date, as well, and should be headed to AT&T.
Lisbon is expected to be a slider. Black Forest is a 10-inch PlayBook and Nevada is expected to be the next flagship device, a touch screen and full QWERTY BBX.
(Pic of the "London" via
Verge
)