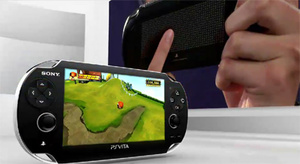 According to a Vita developer
interview
, the new PS Vita will not allow web browsing whilst gaming.
When you hit the PS button during gameplay, the console menu will be brought up including the option to check friends list, music and Twitter. Web browsing is not included, however.
The Vita will run on an
ARM
Cortex A9 quad-core processor and be powered by a quad-core PowerVR SGX543MP4+
GPU
.
Featuring a 5-inch capacitive multitouch OLED screen (with 16 million colors), the device will be 7.16 by 0.73 by 3.28 inches. Furthermore, the Vita has 512MB memory and 128MB VRAM in its graphics processor.
Sony
recently announced the Vita will launch in Japan on December 17th and the U.S./EU in 2012.