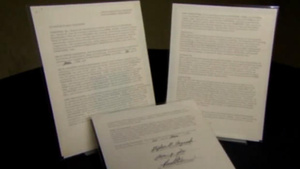 Sotheby's auction house is preparing to auction off the three pages of typewritten paper that are the founding papers for
Apple
.
On April 1st, 1976, Steve Jobs, Steve Wozniak and Ronald Wayne all signed the documents which are headlined "Apple Computer Company Partnership Agreement."
The auction is expected to fetch about $150,000 next week in NYC.
Pencom Systems CEO Wade Saadi is the current owner of the documents, and he said he did not tell too many people he owned them.
However, after Jobs passed away earlier this year, his phone began ringing from those that did know, inquiring on how to purchase.
Video via
NBC
: