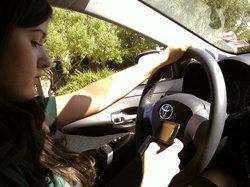 According to the latest data from the National Highway Traffic Safety Administration, texting while driving keeps increasing, most notably among younger drivers.
50 percent of American drivers between 21-24 have admitted to emailing or texting while driving, even though it is illegal in 35 states.
The study says in 2010 there were 3092 deaths caused by
driver
distractions that included texting and eating meals.
Additionally, the agency stakes out intersections and manually tallies how many distracted drivers they see, and that number jumped to 1 in every 100 in 2010.
Overall,
the study of 6000
, showed that 20 percent of those who responded would answer a phone call or would send a text while driving.
55 percent said distracted driving made no difference to their driving, but 90 percent said when they were passengers they felt unsafe if the driver was distracted.
Despite doing so themselves, most of those surveyed were all for banning handheld electronics in the car or steep fines above $100.