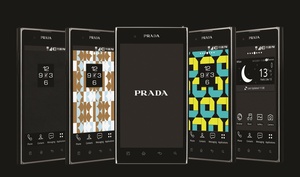 The Prada 3.0 is expected in February.
Last month,
LG
announced the renewal of its mobile phone partnership with high-end fashion name Prada. The two companies had already created two "premium" Prada phones in the past and the original PRADA phone, launched in 2007, was the first touchscreen phone ever, selling over 1 million units.
Today, the companies have launched the LG Prada 3.0, the third smartphone in the premium line. The companies held an event in London to celebrate the release.
The LG Prada 3 (specs via
PhoneArena
) has a 4.3-inch NOVA display with
WVGA
resolution
, runs on a 1GHz TI OMAP4430 dual-core chip, has a 0.33-inch (8.5mm) thick body, dual cameras 1.3MP/8MP, 21Mbps HSPA+ connectivity, Wi-Fi a/b/g/n,
Bluetooth 3.0
, and an FM tuner.
Overall, the specs put the phone in line with other mid-low-high-end
Android
devices on the market.
What sets the phone apart is its design and custom UI layer, which you can see in the pics below: