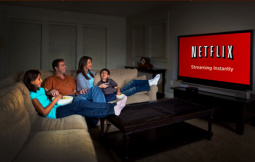 Netflix is preparing to launch in the UK this week, and the company will have an expensive marketing campaign alongside a number of promotions for discounted or free films and TV shows.
The
streaming
service will compete with Amazon's established LoveFilm service in the nations.
Netflix is expected to add new deals with
Sony
, Disney, Paramount, Channel 4 and ITV in the coming weeks to compliment the current deals it has announced with BBC, Miramax, Lionsgate and MGM. Popular British shows like Top Gear and Doctor who will be available to rent from launch.
Despite having a monopoly for years in the U.S. (no longer), Netflix will have a much harder time with its expansion into the UK. Besides LoveFilm, BSkyB and Blinkbox are also established competitors with good brand reputations.
Netflix
has a lot invested
in its UK service, as CEO Reed Hastings noted earlier this year that it would halt its international expansion until it can provide an "aggressively priced, compelling service" in the UK.
The digital TV and movie market is expected to be worth 379 million pounds next year, after being worth just 11 million pounds in 2006.