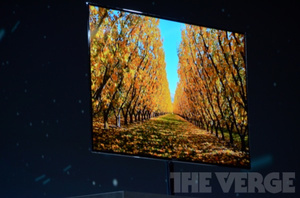 Samsung
has followed in LG's footsteps in unveiling a 55-inch OLED TV for the masses.
Differentiating the TV is its "Super OLED" panel which "has self-emitting
RGB
sub-pixels and is faster than LED," says the company. OLED panels will provide "accurate color reproduction and 'true-to-life picture quality,'" which was certainly visible today, say spectators.
The OLED display will "virtually eliminate motion blur," as well, notes Samsung.
Furthermore, the TV will include Samsung's newly introduced "
Smart
Interaction" technology, which includes an integrated webcam and two mics for motion and voice control. For example, you can turn on/off the TV, raise the volume, use some apps, facial recognition and even search via the built-in browser using the interface.
The TV will be powered by a dual-core processor.
Samsung says the OLED will be available in the second half of the year. The company wouldn't say, but expect a $10,000 price tag.
(Pics via
Verge
)