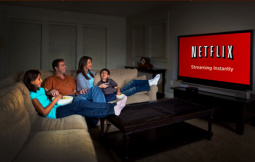 After a very rough 2011, Netflix came through today with stronger than expected earnings and a boost in subscribers.
The company will continue to see losses in 2012, mainly thanks to the extreme costs of rolling out
streaming
services internationally.
During
the report
, Netflix revealed for the first time the kind of margins the company makes on its two products,
DVD
subscriptions and streaming subscriptions. Streaming comes in at just 11 percent profit margin, while the DVD rental business has a hefty 52 percent margin.
Unfortunately for Netflix, CEO Reed Hastings confirms that the DVD rental business is a dying one:
"We expect DVD Subscribers to decline every quarter.. forever."
In the Q4 2011, the company lost 2.76 million DVD subscribers whilst gaining 220,000 streaming customers. One the other hand, however, Hastings says
"profitability of each new streaming subscriber is almost twice what it is for DVDs -we'd obviously like them to do both, but if they're only going to use one, we'd much prefer they use streaming."

Netflix recently expanded to the UK and Ireland and will compete with LoveFilm in the region.