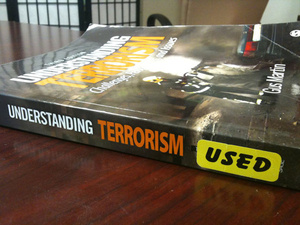 Sophia Stockton of MidAmerica Nazarene University walked into a police station today in Kansas to report that the textbook she had ordered from Amazon had come with a little extra surprise, a bag of cocaine.
Stockton says when first opening the book, a clear plastic bag fell out filled with white powder. Scared the powder might be dangerous, the student took the book and bag to the local police station.

Officers tested the substance, which turned out to be cocaine: "He put some gloves on and put it in a plastic bag, he took it back to test it and like 10 minutes later he came back and said, 'Did you happen to order some cocaine with your textbook?,'" said Stockton.

Stockton says the book came from Amazon, not a third-party vendor, and it came entirely wrapped. The book was ironically "Understanding Terrorism: Challenges, Perspectives, and Issues."

Police destroyed the cocaine and have asked Amazon for comment.