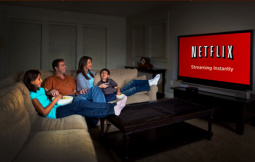 According to the Russian newspaper Vedomosti, popular
streaming
services Netflix and Hulu are considering expanding to Russia.
Hulu executives have allegedly visited Moscow and met with top Russian film studios in an effort to roll out the service. Amongst the executives was Johannes Larcher, the company?s SVP of international, reads the report.
Russia, despite being a haven for piracy, especially of movies, was recently let into the World Trade Organization, which is said to have piqued Hulu's interest.
Additionally, Netflix
had a similar trip
, in the efforts of expanding to the nation, which has the most online viewers in Europe.
Netflix is currently available in 45 nations, while Hulu is U.S.-only.
Netflix already operates in 45 countries (recently launching in the UK and Ire