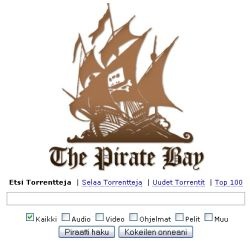 The Pirate Bay has ceased distributing
torrent
files, a necessary move, they say, to "step forward in technology."
Instead of torrent files, the site will now use magnets, which they say will be more efficient and take up less space.
Reads the full statement:
No more torrents=no changes anyhow

Today marks the end of an era. Sort of.

TPB will no longer give out links to .torrent files. The reason is simple: They're just a waste of space and our time.

Instead we're giving you Magnet links. It's simpler for us and no more hassle for you. It's more resilient than .torrent files and it uses much less bandwidth for those who wants to mirror. Also, since the magnet links are just a hash, it's on every single torrent detail page - so noone knows that you actually downloaded a file or not.

This means that noone can block torrent files without blocking data within a webpage. So far, few countries have implemented such harsh censorship tactics. Countries, particularily in EU, seems to moving towards total censorship so we do all we can to avoid our users ending up with less freedom.

A lot of media has hyped that we're stopping with the torrent files. It's like saying that Ferrari is no longer sellings cars - they're just selling BETTER cars. As are we, we're giving you the best links there are!

And to kinda-quote a bible, "Spilling seed is more severe then all sins, since he defiles his soul in this world and the world to come and he does not see the glory of the sharing."

PS. you _can_ download individual files using magnets - just wait until the metadata is fetched from the network. It is worth it.