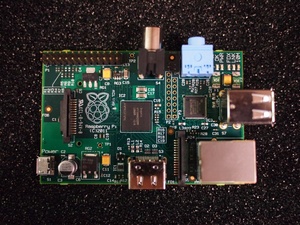 The highly-anticipated $35 mini-computer, the Raspberry Pi, is finally here and available for sale although both current sellers have seen such overwhelming demand that you will likely have to wait a while to receive yours.
Reads the press statement:
Six years after the project's inception, we're nearly at the end of our first run of development although it's just the beginning of the Raspberry Pi story. Now we start developing educational tools and initiatives, at the same time as continuing research and development on Raspberry Pi hardware.

Although we are still waiting for units to arrive from China, you can start buying the Raspberry Pi today. We have entered into licensed manufacture partnerships with two British companies, Premier Farnell and RS Components. They'll be manufacturing and distributing the devices on behalf of the Raspberry Pi Foundation, and handling the distribution of our first batches as they arrive in the country. The Foundation continues to make a small profit from each Raspberry Pi sold, which we'll be putting straight back into the charity.
The Raspberry Pi is a mini-computer created by UK programmers. What makes the computer so impressive (besides its price tag) is the fact that it can play
1080p
HD
video with no issues. The devices are intended to promote the teaching of basic computer science in schools or at home. The company is looking to promote the Python programming language, alongside Basic and C among others.
For $35 you get a 3.3-inch wide board with a 700 MHz ARM11, 256MB
RAM
, HDMI-out,
SD
card slot, a USB port,
ethernet
, audio jack and Broadcom VideoCore IV
GPU
.
You can submit interest (or purchase if there are any still left) here:
Element14
or
RS-Online