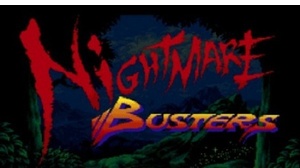 The studio Super Fighter Team has confirmed today that it is working on a brand new SNES (Super
Nintendo
) game for release in 2013.
Super Fighter Team will be the first developer to make a game for the system since 1998's release of "Frogger." The new game is called Nightmare Busters, and it has been around on mobile devices.
The studio says the game is a "masterful run and gun game for the Super Nintendo and all compatible gaming systems." They will be putting the first 600 copies up for pre-order later in the year.
If you order the game, you will receive "One copy of the Nightmare Busters game for the SNES, compatible with
PAL
and
NTSC
regions. The game also includes an instruction manual and one full colour cardstock box to store the game and manual," says
Verge
.
Super Fighter Team is also looking to break the bank, as the game will cost $60 + $8 for shipping to the U.S. or $75 shipped to anywhere else.