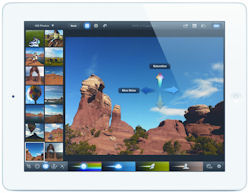 New Apple iPad incapable of using 4G networks outside U.S. and Canada.
While 3G networks operate on the same band around the world, and 2G networks use just a few separate bands, things are more complicated with
Long-Term Evolution (LTE)
networks. LTE, which
Apple
has built support for into its new iPad, has more than 32 different recognized bands, depending on the region.
Even in the United States, customers on
AT&T
and
Verizon Wireless
will need to use different models of the new iPad to work properly. Both carriers have deployed LTE networks in the 700MHz band, but are still far apart enough to require different hardware.
In the European Union, the 800MHz band is harmonized for LTE across all members (while 2.6GHz is harmonized internationally, but not used by either U.S. carrier). Even at that, some regions, such as the United Kingdom, don't have LTE networks operating in the 800MHz band. Also, in the UK, the 700MHz band is reserved for
Freeview
TV.
The Register
guesses that the UK will receive a variant of the AT&T iPad, so it can use a 3G network on the 2.1GHz band. Apple then will have to focus on improvements made to the new iPad's display to lure customers outside the United States and Canada.