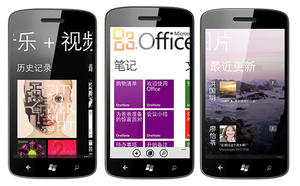 Windows Phone has made it to the world's most
populous
nation.
The first device to reach China is the
HTC
Eternity (known as the
Titan
in the U.S.). The smartphone
will come unlocked
and pre-installed with "a slew of popular Chinese apps" and a Chinese user interface.
HTC will only have a small headstart, however, as
Nokia
will unveil three phones next week. Although it is still unknown which phones the phone maker is releasing, it is assumed one will be the Lumia 719, a slightly redesigned version of the
Lumia 710
.
ZTE, one of China's most popular smartphone makers, will also be releasing their "budget-friendly" Tango phone later in the year, as well.
The Eternity will have a hefty price tag of ¥4,000 ($632) but Nokia is likely to sell their devices for half of that price.