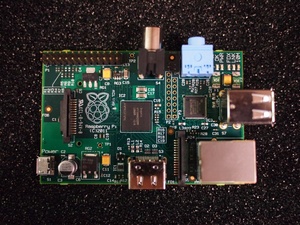 Despite past delays, the first batch of Raspberry Pi mini-computers will ship to customers who pre-ordered it starting next week.
There are only two distributors of the computer, which sells for $35. The two sites, Premier Farnell and RS Components, said they were seeing 700 orders per second, crashing the sites on the first day of pre-orders.
RSC has been inviting customers who registered interest to order, in the order they signed up:
"We are delighted to have the first batch of fully compliant products in our warehouse. There has been a great deal of anticipation for Raspberry Pi since its launch at the end of February, and it is important that we provide a delivery guarantee to customers when they place their order."
Those lucky enough to have ordered first will get their device by April 20th.
For $35 you get a 3.3-inch wide board with a 700 MHz ARM11, 256MB
RAM
, HDMI-out,
SD
card slot, a USB port,
ethernet
, audio jack and Broadcom VideoCore IV
GPU
.