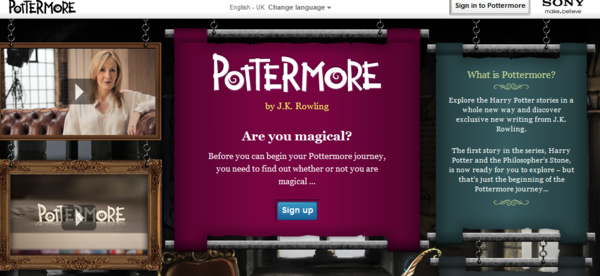 J.K. Rowling has opened the doors of the highly-anticipated 'Pottermore' website for fans of the Harry Potter website.
Two weeks ago, the whole set of official e-books went on sale, bringing in £1.5 million in sales in just three days.
Says the release:
"JK Rowling's unique online experience Pottermore.com, based on her hugely popular Harry Potter books and partnered by Sony, is opening from today, following its closed Beta testing phase."

"Many more Potter fans old and new will now be able to explore, discover and share the stories in a completely new way. At Pottermore.com, they will be able to join Hogwarts School of Witchcraft and Wizardry, get sorted into one of the four houses, and have a wand choose them, before starting a journey through the storylines of these extraordinary books and discovering exclusive new writing from J.K. Rowling."
The site is a haven for Harry Potter fans, and includes Rowling's notes, extra text cut from the novels and hours of additional content and thousands of words worth of text content.
For starters, Pottermore.com will begin with Harry Potter and the Sorcerer's Stone,
"but will rapidly grow and develop, as new content, features and functionality are added. Users will be able to share their experiences and creativity as the storylines move on to subsequent books in the series in the months following opening."