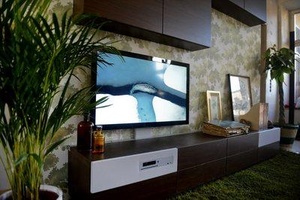 IKEA has announced the launch of the IKEA TV, a web-connected device that will be the centerpiece of their new UPPLEVA furniture range.
UPPLEVA, which means "experience" in Swedish, will integrate the LED TV, a sound system with wireless speakers and CD/DVD/Blu-ray players into an all-in-one self-assembly piece.
Most of the electronics will be made by Chinese manufacturer TCL while IKEA built all the furniture around it, aiming to hide all cables. Additionally, the companies have combined all the controls into a single remote. The furniture will allow the remote's signals through, thanks to its design, leaving the device hidden.
The LED TVs will be available in gray, black and blue and in four different sizes, 24", 32", 42" and 46".
As with other furniture from the company,
the set is ready for assembly at home
. The cheapest set will cost $955 and will be available in Sweden, France, Poland, Germany and Italy in June and worldwide by the beginning of next year.