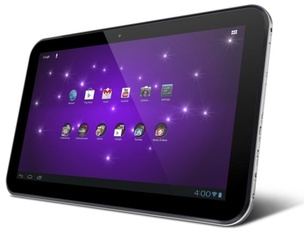 Toshiba
has priced their massive 13-inch Excite tablet.
The device
will go on sale
next month with a large $650 base price tag, but the price does make sense given the extra display space.
For the base price, you get the 1600x900
resolution
device, 1GB
RAM
, a Tegra 3 quad-core processor and 32GB internal storage. For $750, you get the 64
GB
model. As expected, because of the size of the tablet, it is pretty heavy, as well, at 2.2 pounds. On the other end of the spectrum, Toshiba kept the tablet slim, at 0.4-inches thin.
On the port end, the Excite 13 has an
SD
slot, MicroHDMI and two USB ports.