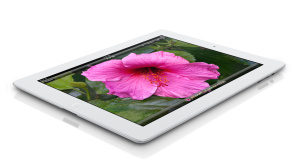 Apple's iPad has regained nearly all of the market share it lost to Amazon in the holiday quarter.
Amazon's Kindle Fire sales slowed down significantly during the first quarter, while iPad sales increased. Apple's market share jumped from 55 percent to 68 percent.

On the other hand, the Kindle Fire's share fell dramatically, from 17 percent down to just 4 percent.

BGC Partners analyst Colin Gillis says the drop was expected as Amazon's Kindle products typically only sell very well during the holiday season when they are purchased as gifts.

Says Gillis: "Fatigue is starting to kick in about six months after a product has launched. And it's natural that Amazon is going to tend to be a better holiday play."

Overall, tablet shipments doubled to 17.4 million units in the Q1, from 7.9 million in the same period in 2011.