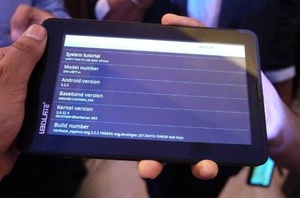 DataWind, the company behind the $35 Aakash tablet for the Indian market, has introduced two new "UbiSlate" tablets for the nation.
The UbiSlate 7+ and UbiSlate 7C are both considered "premium" devices compared to the Aakash although that word is hardly fitting when compared to American and European tablets that have been released in the last two years.
DataWind's 7+ has a 7-inch, 800 x 480
pixel
resistive touchcscreen display with 2GB of internal storage, while the 7c has a capacitive touchscreen display and 4GB of internal storage.
Each tablet
is run by a 800MHz single-core processor and 256MB of
RAM
. There are no cameras or mics, but there are USB and microUSB ports.
Both tablets run on
Android 2.2 Froyo
, have 2.5G cell modems and have small 3200mAh batteries. The tablets will cost less than $75 and 2GB of data
bandwidth
costs just $2 per month.