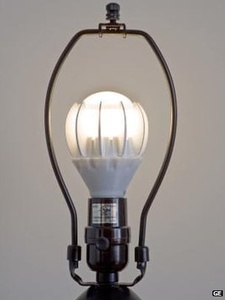 GE
,
Philips
and Sylvania have each showcased LED lightbulbs today that can last for up to two decades.
The bulbs will use much less energy than current generation bulbs, but will cost significantly more due to using LED instead of filaments.
Last month, Philips introduced their LPrize LED, at a cost of $60. The bulb only consumes 9.7 watts while having the equal power of a 60-watt incandescent lamp. Today, the company showed off the EnduraLED, although it has the same power as a 100-watt incandescent bulb while consuming under 15 watts.
Sylvania and Philips's products will hit stores
later this year
. GE's bulb, which uses 9-watts and can replace 40-watt bulbs, will sell for $50 later this year.
If used for three hours per day, each of the bulbs will last for two decades.