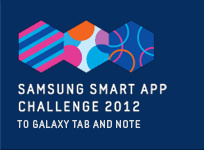 Looking to improve the quality of apps available for
Android
tablets,
Samsung
has begun the 2012
Smart
App Challenge.
The company has put $4 million aside as prizes to encourage developers to take part in the challenge.
Devs who build the most popular apps for the Galaxy Tab tablets and
Galaxy Note
hybrid phone will be eligible to win up to $55,000 and there will be 80 winners. Popularity is based on user downloads.
Anyone who wants to create S Pen-based applications using Samsung's own SDK will be eligible for the same prizes but judging will be done by a panel.
Finally, Samsung will give the best apps "mega marketing support" including mentions in press releases and in TV/print ads.
The challenge ends on September 30th.
More info here:
2012 Smart App Challenge