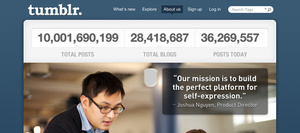 Perfect 10, the adult publisher, has sued microblogging service Tumblr over alleged piracy.
The adult company is infamous for its attempts to sue major corporations for using their images without permission but they have not been successful in the past.
Amongst the former recipients of lawsuits are Google,
Microsoft
, Amazon, Yandex, Giganews, Megaupload, Rapidshare, Depositfiles, Mastercard, Visa and CCBill. The first few were over search engine results with Perfect 10's pictures, the next few were over pictures and videos being hosted on the site's servers and the last few were for providing payment services for allegedly infringing sites.
In the latest case, Perfect 10 has accused Tumblr of failing to remove content when served with
DMCA
takedown notices.
Reads the complaint:
"Tumblr has ignored its obligations under the DMCA. As of the date of this filing, Tumblr has failed to completely process any of Perfect 10's DMCA notices, taking down at most only a handful of the over 200 infringing images identified by Perfect 10, many of which had Perfect 10 copyright notices or watermarks conspicuously placed on the images.



Accordingly, Tumblr should be held liable for its failure to abide by its obligations under the DMCA and for willfully ignoring the widespread and uncontrolled copyright infringement pervading its website."
Perfect 10 wants all infringing items removed and $5 million in damages.