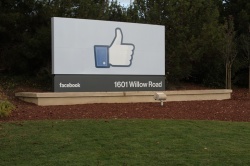 Lawsuit targets Facebook's use of data.
It accuses
Facebook
of improper tracking activities, namely the continued tracking of users' Internet habits even when they were signed out of the service. The class action suit is seeking damages on behalf of all users of Facebook in the United States.
It consolidates 21 related cases filed in more than a dozen states in 2011 and early 2012. It is seeking $10,000 in damages for each U.S. user of the service, or about $15 billion.
"It's not a pipe dream,"
attorney
Billy Murphy
of Baltimore, Maryland,
told AFP
.
"The only way you are going to stop companies from disregarding the privacy rights of the American people is to take some of their money. That's the only thing that gets their attention."
Facebook stands accused of mis-using data uploaded to the service by privacy and consumer rights groups. It has already settled a case with the
U.S. Federal Trade Commission (FTC)
for supplying user data to third parties in violation of its own Privacy Policy.
It must submit to independent audits for twenty years as a result.