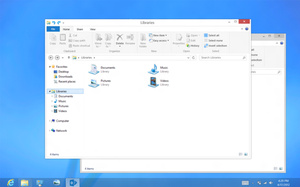 Microsoft
has shown off another large change to the upcoming Windows 8's desktop user interface.
The company has removed the popular Aero Glass UI that was first shown off with Vista and then in Windows 7.
By dropping Aero, Windows 8 will have visual changes including "flattening surfaces, removing reflections, and scaling back distracting gradients."
In
response
to questions about whether it will be tough for users to learn the new OS, which has some stark changes from past OS, the company does not seem to be worried:
"We will help people get off on the right foot and we have confidence that people will quickly find the new paradigms to be second-nature."
Windows 8 Release Preview launches next month and the final release of the OS is expected to launch in late October.