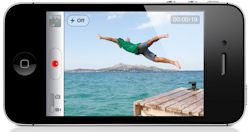 Sprint hopes to boost subscribers with new trade-in offer.
It said it will offer at least $100 credit toward an iPhone 4S to customers who trade in an iPhone from a competing provider. The new customer would have to sign up to a minimum two year contract with Spring to quality for the credit.
Sprint
CEO
Dan Hesse
said in April that the carrier will continue to offer unlimited data for the next generation iPhone.
It has moved to capitalize on decisions by
Verizon
and
AT&T
to scrap unlimited data plans, which has not gone down well with their customers. Sprint does not expect to make a profit from carrying the iPhone until 2015, according to Hesse, who signed a deal worth $15.5 billion over the next four years to bring the Apple handset to Sprint.
"We believe in the long term,"
Hesse said
.
"And over time we will make more money on iPhone customers than we will on other customers."