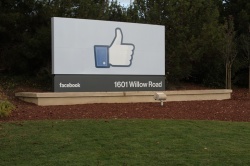 Investors angry about information disclosed before the IPO.
A writ filed in a Manhattan court alleges that
Facebook
and the banks that lead its recent floatation did not inform all investors of its revised growth figures.
Morgan Stanley
has already been brought up by U.S. financial regulators, who say the firm may have questions to answer about the highly-publicized Facebook IPO. The bank however, said that it fully complied with all the rules.
The lawsuit alleges that the banks and Facebook concealed a
"a severe and pronounced reduction"
in growth forecast during the flotation marketing process.
The floatation did not get off to the right start on Friday, when it was affected by technical glitches on the Nasdaq stock exchange. Since then, the value of Facebook shares dropped from the $38 float price.
It is also being reported that the Senate banking committee
may take a look
at the issues surrounding the Facebook IPO.