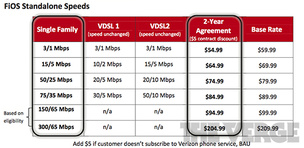 TheVerge has posted the prices for the upcoming Verizon FiOS expansion plans.
Last week, the ISP noted it was boosting its speeds for FiOS plans, making most of them much faster, and adding new tiers.
The plans will go into effect on June 17th.
Verizon's "cheap" base plan of 15 Mbps down and 5 Mbps up will now cost $65 per month with a two-year contract, a far cry from the current $55 with one-year contract. That's where the bad news ends for Verizon fans, fortunately.
The current 25/25 tier is being replaced by a 50/25 plan, which will cost the same ($75) with two-year contract. The 50/20 is being replaced by a 150/65 plan that costs $95 per month.
Finally, there is a new 75/35 tier for $85 and the new lightning fast 300/65 service for $205 per month.
If you don't want a two-year contract, the plans cost $5 more than stated per month.