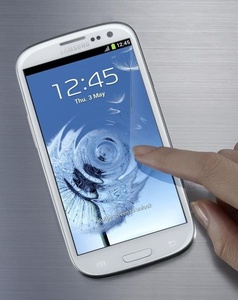 Samsung
has finally revealed which American carriers will be receiving the highly-anticipated
Galaxy S III
smartphone.
The company says Verizon, Sprint, T-Mobile, AT&T and US Cellular will each be getting the phonje unfortunately "exact pricing and retail availability will be announced by each of the five carriers in the coming weeks."
Samsung did note that pricing will "start from $199," but we hardly believe that all carriers will bring that low price to the table, especially not Verizon. The device supports
LTE
and HSPA+ 42Mbps, so each carrier will be offering a "4G" smartphone.
All American models will have 2GB of
RAM
and will be named GS III, not a confusing variant like in the past. Outside of the radios, there does not seem to be any differences between the models each carrier is getting.
Samsung has sold over 52 million of the original Galaxy S and its sequel, the GSII, and is said to have seen 9 million pre-orders of the latest model.