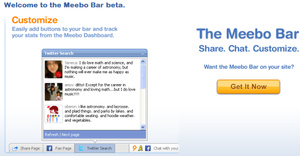 As reported last month, Google has purchased the ad-bar service Meebo.
Says Meebo:
"We are happy to announce that Meebo has entered into an agreement to be acquired by Google!
For more than seven years we've been helping publishers find deeper relationships with their users and to make their sites more social and engaging.

Together with Google, we're super jazzed to roll up our sleeves and get cracking on even bigger and better ways to help users and website owners alike.

We've had a blast building Meebo so far and we're really excited to start the next leg of our journey.
Thank you all for coming along for the ride!"
Original story:
Google is on the verge of acquiring the Meebo social and messaging service. If accurate, the price tag could be as high as $100 million, say reliable sources.

The company was created in 2005 as an instant messaging add-on for browsers and has been expanded to a "full suite" of social and mobile apps. More importantly, the apps are available to consumers and publishers, each with the intention of making online communication easier. Meebo also has a new advertising format, the "Meebo Bar," which is found on many popular sites.

Meebo Messenger, a variant of the original add-on, still exists today. The company is currently creating a tool to "create an interest profile to get new and timely information about the things that matter to you."

The company has raised over $60 million in venture capital since its inception.