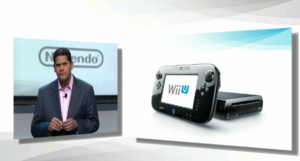 Nintendo had arguably the best keynote of the week, since they showed off their new hardware, the Wii U.
Reggie Fils-Aime, President of Nintendo of America, started off the program showing the final design of the GamePad tablet and the Wii U hardware itself, in sleek black.
The company then confirmed New Super Mario Bros. U, which is of course similar to past games but with new features and mechanics. 5 players can play, one with the tablet and four others with Wii motes. There also seemed to be a new suit that comes from eating acorns. You can also play with Yoshi.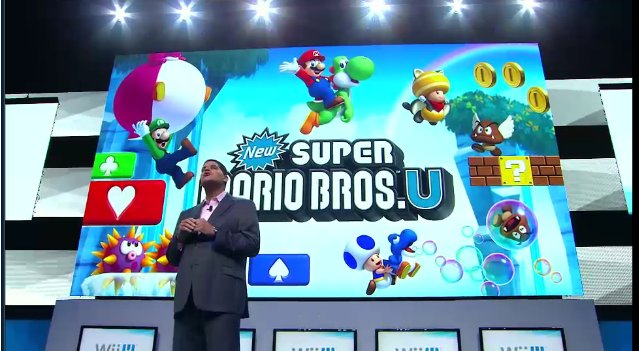 Next, Fils-Aime announced that Netflix, Hulu, Amazon Video, and YouTube content will be available to Wii U gamers in the future:
"In the future, we'll show you how the Wii U will integrate and elevate entertainment in your living room."
The boss then showed a montage of upcoming games including Batman Arkham City: Armor Edition, Darksiders 2, Tank! Tank! Tank!, Tekken Tag Tournament, Trine 2: Director's Cut, Ninja Gaiden 3: Razor's Edge, Mass Effect 3 and Aliens: Colonial Marines. Ubisoft had 8 titles in total with the coolest being ZombiU, which really showcased the Wii U's tablet features:
Fils-Aime concluded the show showing off Nintendo Land, the game that will come bundled with all new consoles just like Wii Sports did for the Wii: