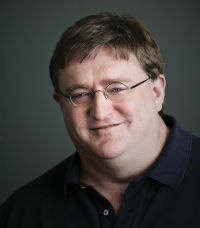 Valve boss Gabe Newell made some interesting comments at Seattle's Casual Connect conference last night in regards to the future of open platforms.
The exec went as far as to call the upcoming Windows 8 a 'catastrophe.'
"I think Windows 8 is a catastrophe for everyone in the PC space,"
Newell said. "
I think we'll lose some of the top-tier PC/OEMs, who will exit the market. I think margins will be destroyed for a bunch of people. If that's true, then it will be good to have alternatives to hedge against that eventuality."
Newell says the best alternative is
Linux
, and he hopes to soon have all 2500 games on Steam running on Linux.
Into the future, Newell says the future of computing will be in wearable gear that can
overlay
info on physical objects.