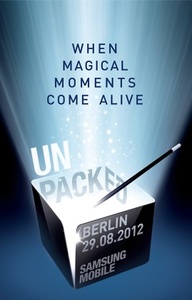 Samsung
has announced they will be hosting a second 'Unpacked' event this month, meaning the electronics maker is planning a busy month for consumer devices.
The first event, on August 15th, has the company expected to unveil their new
Galaxy Note
10.1 tablet although that is unconfirmed.
Samsung's latest invitation is for an event on August 29th, with most speculation being that the company will show off the new Galaxy Note 2.
As rumored, the the new device will go even bigger than its 5.3-inch predecessor, up to 5.5-inches. The device will feature ultra-thin "unbreakable plane display (UBP)," which is "a precursor to flexible display technology, and leaves room for a thinner design without sacrificing internal hardware."
If accurate, the device will also come with 2GB
RAM
,
Android
4.1
Jelly Bean
, a 12MP camera and a Samsung quad-core processor.
Finally, the Note 2 will have significantly imporved memo and document editing features including "professional writing features for several specialized fields,"